Bangladeshi writer, businessman, and entrepreneur M Miraz Hossain has been invited to receive the Indira Gandhi Gold Medal at the "Bharat Bangladesh Sahitya Sanskriti Utsav-2022", organized by the Bharat Bangladesh Sahitya Sanskriti Parishad.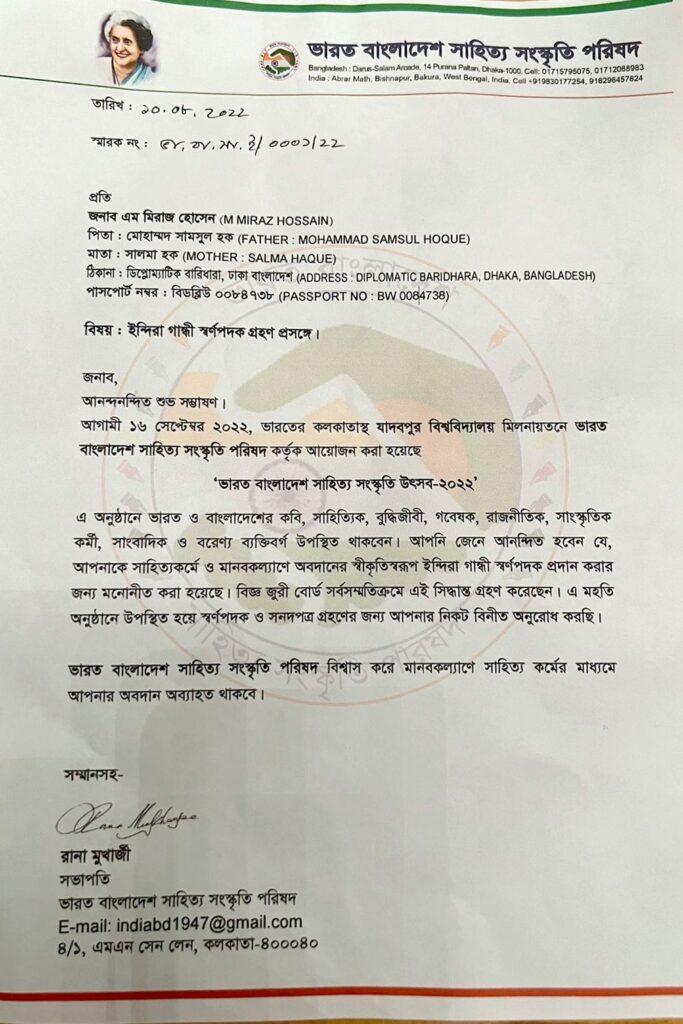 The event will be held on September 16, 2022, at the Jadavpur University Auditorium in Kolkata, India. Poets, writers, intellectuals, researchers, politicians, cultural workers, and journalists from India and Bangladesh will be present at the event. M Miraz Hossain was unanimously nominated for the Indira Gandhi Gold Medal by the learned Jury Board in recognition of his contribution to literature and human welfare.
Miraz is an amateur writer. He has already published two books, 'Hayay Veshe Hajar Maile' and 'Apan Nama'. 'Apan Nama' has won the status of one of the bestselling books of Ekushey Book Fair 2022. Besides two books, 'Golper Shohore' and 'Praner Kobita' have been published under his editorship. He is currently writing a mystery-based book titled "Byakhyatit".
Source: The Bangladesh Today, The Financial Express.